Martin Marietta Donates More Than $30K to the San Antonio Food Bank & Local Charities
Martin Marietta – a leading supplier of aggregates and heavy building materials – held its ninth annual charity golf tournament Nov. 13 and raised a total of $31,200 for the San Antonio Food Bank. The company also donated $1,000 each to the Epilepsy Foundation, Family Life Center and Battered Women's Shelter, and $1,928 to SAMMinistries.
"In the spirit of the holiday season, we are proud to be able to donate to such wonderful charities," Chance Allen, regional vice president of Martin Marietta – Central Texas Aggregates, said. "Our annual charity golf tournament is a great way for us to give back to our community and make a difference. We're also extremely thankful to our customers and partners for their continued support in making this event a success year after year."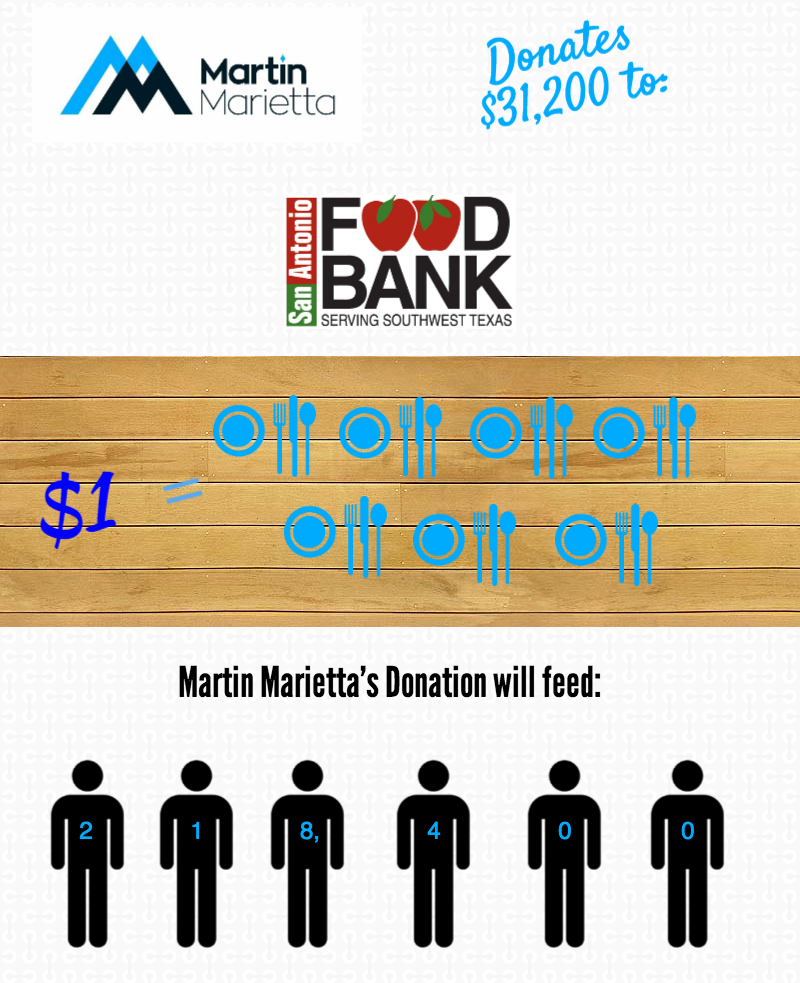 The San Antonio Food Bank's mission is to fight hunger in Southwest Texas through food distribution, programs, education and advocacy. The organization provides food and groceries to more than 500 partner agencies in 16 counties. The food bank relies heavily on the generosity of local businesses, like Martin Marietta, to continue serving Texans in need.
"We're incredibly grateful to Martin Marietta for their substantial donation," Eric S. Cooper, president and CEO of San Antonio Food Bank, said. "One dollar goes a long way at the San Antonio Food Bank. The $32,100 donation from Martin Marietta will help provide 218,400 meals in our community. They have helped us turn hungry holidays into happy holidays for so many area families."
Martin Marietta employs 360 San Antonio-area residents, of whom 106 operate the Beckman Quarry. Martin Marietta recently selected the Beckmann Quarry as one of its 2014 Honor Plants. The Honor Plant program was developed in 1986 by Martin Marietta to honor its quarries that excel in safety, environmental protection, public service and production practices. The program focuses on employees' efforts to be good stewards of land and good community neighbors. The Beckmann Quarry is one of seven quarries nationwide to receive the honor.